July 2, 2020 — The strange year which 2020 has become hit its halfway point this week. We seem to now be at a place where there's some good near-term economic news to help counterbalance a less-favorable outlook. Make no mistake about it, though; despite improvements, we have a long, long way yet to go to get to anything close to a full recovery from the pandemic shutdown. Still, the good news continues to pour in, and that's reason enough for at least cautious optimism.
Unfortunately, the strength and durability of the recovery will be dictated by what happens with the COVID-19 outbreak, and at the moment the disease seems to have gained the upper hand. Rising rates of infection — whether from community spread or increased testing picking up more of those infected without symptoms — threatens to see new or extended curtailments placed on economic activity in a growing number of states where fresh outbreaks aren't being well contained.
Record low mortgage rates were achieved (again) this week, and as we cheer the rebound in activity, we must keep in mind that record low rates are a result of terrible economic conditions, even as signs of a rebound are all around us. Phased re-openings of segments of economic activity in May and in June have seen a spurt of activity, which would be expected after a period of near-standstill, and true recovery still remains more of a hope than reality.
The health of the labor market is both an indicator of what's happening across a wide swath of the economy and a factor in its potential for future growth. After unprecedented job losses of more than 22 million in March and April, improvement came a bit faster in May than was expected and actually accelerated in June. For the month, the Bureau of Labor Statistics reported that 4.8 million new hires took place, a figure above forecasts for a second straight month. Of the 22 million jobs lost earlier this year, the last two months have seen a collective 7.499 million recovered, so the economy has taken back one-third of the losses in just two months' time. With the bounce in hiring, the unemployment rate declined by 2.2 percentage points to 11.1%, a still horrible level, and the labor force participation rate edged 1.3 points higher to 61.5% for the month.
The 33% rebound in jobs in two months is great, but the outsized gains will need to continue for months yet — at least four more at the current unprecedented rate — to get us back to employment levels seen in February. That seems unlikely, given that the downward pace of initial claims for unemployment benefits have essentially stalled at a very elevated level. Progress continues to be made on this front, but unlike April and May and into early June, declines in new claims are no longer in the 200 to 300,000 range per week; rather, this pace of decline has diminished markedly of late, with new claims sliding only 26K, 58K and 55K over the last three weeks. With only minimal decline, this has left the level of initial claims at a very elevated 1.427 million in the week ending June 27. Pre-pandemic, the former record high was in the mid-600,000s, and with claims some 2.5 times that amount it is quite clear that businesses are still shedding workers at a rapid pace. As evidence of this, the outplacement firm of Challenger, Gray and Christmas tallied 170,219 job cuts in June, and while that's certainly better than the 397,000 for May, it's still more than 300% above last June's levels.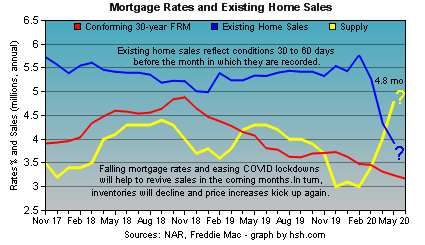 We learned last week that sales of existing homes fell in May, but since those closings largely reflect demand in April, when the economic closure was at its tightest, it doesn't tell us much about the present market. However, the National Association of Realtors Pending Home Sales Index does give us a sense of that, and for May (sales that may come to a close in June or July) the PHSI rose by 30.6 points to 99.6 for the month — a significant rebound, if one that leaves the indicator 11.8 points shy of February levels. With some pent-up demand from the winter-spring lockdown and record low mortgage rates in place, the "spring homebuying season" will likely be extended well into summer this year. As with many facets of the economy, though, we may fall short of a full recovery anytime soon, since folks receiving unemployment benefits can't use that income to qualify for mortgages, and millions of homeowners in mortgage payment forbearance programs are probably not looking to sell and rent (at least not yet).
That said, record low rates may not be sufficient to keep demand elevated, especially if potential homebuyers start to think that even lower rates may yet come this year. Applications for mortgages have softened a bit of late, and in the week ending June 26, a 1.8% decline in overall applications was reported by the Mortgage Bankers Association. Purchase-money applications dipped by 1.3% in the latest week, following a 3% slip the prior, while applications for refinancing dipped 2.2% after an 11.2% drop. It may be that we're seeing just a bit of a pause in applications for both purposes, but as far as refinancing or purchases go, there's little practical difference between a record low rate of 3.13% (last week) or 3.07% (this week), so the affordability component of the transaction isn't much improved for purchases and there's no significant increase in urgency to get a refinance started, either.
In recent weeks, we've been tracking signs of a reasonable rebound in manufacturing activity via regional Fed reports. This week came a national confirmation of the uptick, as the Institute for Supply Management's barometer shot higher. For June, an increase of 9.5 points in the ISM manufacturing index was recorded, pushing the indicator to 52.6 for the month. This was not only a move above the breakeven level of 50, but also to a value high enough to be the best in a year. A submeasure tracking new orders stormed 24.6 points higher to 56.4, a very solid reading, while one covering employment bounced up by 10 points to 42.1 — still weak, but much improved nonetheless. Of course, the gain in the top line index and that for new orders represents pent-up demand and a bit of catching up; what remains unclear is whether or not there will be continued demand. The still-soft hiring component suggests manufacturers remain cautious about hiring amid this uncertainty.
June's flare in the ISM report certainly reflects the 8% gain in overall factory orders the Census Bureau reported for May. Orders for durable goods led the way, as demand for cars, appliance and other items designed to last longer than three years kicked 15.7% higher. Orders for non-durable goods also picked up a bit with a 2% rise, and the gains in both cases ate into the significant declines in factory orders seen in both March and April. As with many other data series, the rebound has begun, but even an 8% rise overall doesn't fully erase declines of 11% and 13.5% of March and April. Still, there should continue to be some support for durables next month, at least from the transportation side, as sales of new vehicles continue to stage a modest recovery. According to AutoData, an annualized 12.7 million new cars and light trucks were sold in June, improving on the 12.1 for May, and certainly above the Great Recession-like 9 million of April. Tighter financing conditions and limited inventories of vehicles for sale from manufacturing interruptions over the last few months may be tempering sales growth, but the uptrend in sales seems likely to continue to improve, if slowly.
The nation's imbalance of trade expanded in May, rising to $54.6 billion for the month. Imports mostly held their own, sliding by just $1.8 billion, and were likely supported by the gradual reopenings of local and state jurisdictions. Exports, though remained pretty soft, posting a $6.6 billion decline, but it's hard to reckon from the data how much of this is attributable to slack demand or impaired production. Regardless of reason, trade flows have declined sharply in the last few months and so have plenty of ground to make up.
Construction spending was unsurprisingly weak in May, sliding 2.1% overall. Outlays for residential projects were a drag for a third month in a row, declining by 4%, but with the housing market picking back up this should change before long. Non-residential spending was also off by 2.4%, has now posted declines in five of the last six months, and with malls, stores and office buildings still waiting for occupants to return, there's no reason to expect much of a rebound here anytime soon. Spending for public-works projects — roads, schools, libraries, hospitals and the like — can be more erratic but managed a gain of 1.2% for May and have been a regular contributor this year.
Minutes of the June 9-10 FOMC meeting were released this week, and the discussion and briefings that happened at that get-together were full of concern about the economic climate. As well, much time was spent by the Committee discussing how to manage monetary policy with the official policy rate at the Effective Lower Bound (ELB) (read: federal funds rate at or near zero). The Committee discussed continuing to use "forward guidance" as a means to help convey how long interest rates will remain low, and whether this guidance should also have date-based target (e.g. a rate change won't even be considered until some future point in time, or an outcome-based one (that is, a rate change won't even be considered until unemployment falls to, say 5% or inflation rises to, say 2.5%).
The Fed also dusted off for consideration long-shelved policies employing yield caps or targets (YCT), where they would set a peg for market-based Treasury yields (whether for one term of Treasury debt or many terms) to help signal to the markets their policy intentions. These have been used by the central banks of Japan and Australia, but there were some considerable reservations expressed regarding their implementation and it was decided that more study was warranted. In the end, no decision on how to best more forward was decided, but the body will continue to hash out a strategy in the coming months, and probably reveal whatever method they choose after their on-going internal review of communicating monetary policy has been completed. Regardless, the Fed did re-iterate its commitment to use all tools at its disposal to try to again move us closer to full employment with stable inflation, the twin tenets of its dual mandate.
Although it's not clear how the resurgent outbreak will affect them, consumer moods have generally improved since recent nadirs. The Conference Board's measure of Consumer Confidence powered higher in June, adding 12.2 points to rise to a value of 98.1 for the month. The gain represents a rebound of about one-quarter of the decline in confidence seen from February to April, so it's a start, at least. Assessments of current conditions rose 17.8 points to 86.2 for the month, but this is only still about half the value seen in January. As far as the future goes, the outlook component rose by 8.4 points to 106.0 for the month, and this is actually a number on par with those seen in the months leading up to the coronavirus outbreak, so optimism for the future seems to have fully returned. Let's hope it holds.
In all the above, there can be found are plenty of reasons for optimism as well as plenty of reasons to be pessimistic. That said, this too represents a considerable improvement over the dark clouds of uncertainty and the increasingly bleak outlook in the Feb-April period, which fostered only pessimism. At the halfway mark of 2020, we don't know how the virus will play out as we wend our way forward. We don't know if more economic interruption is in the offing, and we don't know how or if the economy will continue to rebound or how strong that rebound may be. What we do know is that we have begun the journey, for better or worse, and hold out the hope with each passing day that we are one day closer to both effective treatment and a vaccine.
Mortgage rates are on a glide path at the moment, what with a holiday-shortened week this week and the glut of first-week-of-the-month data digested by the markets. A light calendar of data is due next week, and arguably, it's the beginning of vacation season and the summer doldrums for markets, so we think that mortgage rates will be mostly unchanged, even if the slightest downward movement would trigger "new record low" headlines.
In the meanwhile, it's Independence Day on Saturday. The fourth of July is just a date on a calendar, but Independence Day should be celebrated by all Americans, even as we may disagree what this means to each of us. That we are free to discuss our views and even freely protest for them isn't a right conveyed everywhere around the world, and we should never lose sight of this, or what the Declaration of Independence set in motion, even if there remains much work to be done.