HSH MARKET Trends
May 22, 2020 — Months of COVID-19 lockdowns that crippled the economy in the U.S. are starting to be relaxed, and we'll know before long where the balance between safety and economic security may lie, or at least what levels of infection and death we are willing to accept as a state or nation in order to have some semblance of financial and personal normalcy.
Just as the near-complete shuttering of the U.S. economy was without precedent, so is the strange and staggered method of reopening it. Will customers, still fearful of contracting the coronavirus, return? Will employees, some of whom may be making far more money from generous unemployment benefits compared with earned wages, feel compelled to return if called? Can shopping malls survive on crowd and traffic limits, social distancing requirements and "curbside pickup"? How will both governors and the governed respond if the incidence of infection and death begin to climb again? There is no way to know, at least now at the outset, but we will start to know soon enough. Odds favor that we will continue to ask these questions until at least one of the many vaccines being worked on is deemed effective and is distributed across the globe. When that will be, no one can say for sure.
For the moment, all we can hope to do is stanch the economic bleeding, try to protect ourselves and the most vulnerable to the extent possible, use any novel treatments than can be found to help promote recovery of those severely affected and try to understand our comfort levels as rules change.
For its part, the economic bleeding continues to be severe and perhaps even worsening. For some, temporary layoffs have turned into long furloughs; for others, furloughs have turned into outright layoffs, and many retail, service, hospitality, travel and small businesses will not survive. Last week, another 2.438 million first-time applications for unemployment assistance were filed across the country; this was the lowest number of the unprecedented nine-week string that has seen over 38 million join the ranks of the jobless. The continuing decline is of course good news in its way, but it bears recalling that absent this nine-week period, last week's figure was on the order of five times the previous record. In addition, these are of course initial claims — new folks losing jobs; continuing claims (folks receiving benefits) have risen to 25.1 million, and this figure is likely to continue to increase.
In trying to address the economic train wreck, the Federal Reserve opened up the spigots on a number of fronts, from chopping rates to the bone to unlimited buys of Treasuries and residential and commercial MBS. Those keys supports have liquefied and stabilized markets, and a raft of lending programs has also helped to a degree. Another, the Main Street Lending Program has been in the works for a while and will get underway in a couple of weeks time, and could help support small and mid-sized businesses that have been struggling. The Paycheck Protection Program (PPP) has been useful but limited, and needed changes to the program to make it more flexible have stalled and may not come any time soon as Congress is taking the next week off.
The Fed released minutes of the April 28-29 FOMC meeting this week, and there of course are expressions of concern throughout the document. What was also clear is that there are several potential outcomes that the Fed is trying to at least consider (if not plan for). As prepared for the meeting by the Fed staff, the "baseline assumptions that the current restrictions on social interactions and business operations would ease gradually this year, real GDP was forecast to rise appreciably and the unemployment rate to decline considerably in the second half of the year, although a complete recovery was not expected by year-end."
This is perhaps the best-case scenario. The staff also noted that "the staff judged that a more pessimistic projection was no less plausible than the baseline forecast. In this scenario, a second wave of the coronavirus outbreak, with another round of strict restrictions on social interactions and business operations, was assumed to begin around year-end, inducing a decrease in real GDP, a jump in the unemployment rate."
As far as FOMC members themselves were concerned, "Participants discussed several alternative scenarios with regard to the behavior of economic activity in the medium term that all seemed about equally likely. These scenarios differed in the assumed length of the pandemic and the consequent economic disruptions. On the one hand, a number of participants judged that there was a substantial likelihood of additional waves of outbreak in the near or medium term. In such scenarios, it was believed likely that there would be further economic disruptions, including additional periods of mandatory social distancing, greater supply chain dislocations, and a substantial number of business closures and loss of income; in total, such developments could lead to a protracted period of severely reduced economic activity. On the other hand, economic activity could recover more quickly if the pandemic subsided enough for households and businesses to become sufficiently confident to relax or modify social-distancing behaviors over the next several months."
There were a great many other worries described in the minutes, ranging from bank and non-bank liquidity to high levels of corporate debt that could become difficult to service and even "some nonbank financial institutions presented vulnerabilities to the financial system that could worsen in the event of a protracted economic downturn."
With additional fiscal support not likely to come very soon — the $3 trillion bill that passed the House of Representatives did not have bipartisan support and was said to be "dead on arrival" in the Senate. More fiscal support is likely needed — Fed Chair Powell all but advocated for it before Congress this week — but what shape it takes and when it may come aren't clear. Treasury Secretary Mnuchin joined Mr. Powell this week before Congress and espoused a less dire view of the current situation and expressed support for the notion that the recovery would be more "V" shaped than not, and that opening up the economy was crucial to preventing longer-lasting damage.
While the Fed's liquefaction programs and rate cuts have provided key supports for the mortgage market, there are limits to how much they alone can help. After all, a low rate is only useful if you can qualify to borrow a loan or if you can find a product you wish to purchase. Low rates have been in place for a while, but can't address well the issues facing the housing market at the moment, where prices are high, inventory is low, a fair group of potential homebuyers have been pushed to the sidelines due to job or income loss and millions are in loan payment forbearance programs.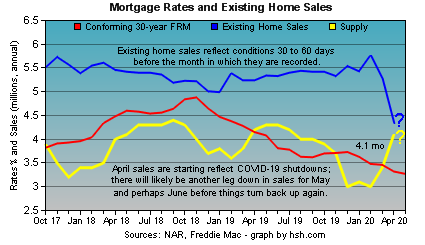 The diminished group that is well-aligned to buy despite these things and motivated enough as to use alternative paths for researching and visiting homes and closing a mortgage in a hands-off environment, rates are quite compelling, as they are just a hair above "all-time" lows. At least some of them actually closed in April on purchase transactions begun in the early stages of the COVID-19 outbreak and amid initial lockdown orders. The National Association of Realtors reported that an annualized 4.33 million sales took place in April, a decline of 17.8% from March. The upward momentum for home prices — goosed by low rates and limited inventories of homes to buy — continued in April, albeit at a slightly lesser pace. The median cost of an existing home sold this April was 7.4% higher than last year at this time, but that was a bit cooler than the twin 8.1% increases notched in February and March.
In what would generally be considered good news on the inventory front is actually a bit misleading. Supply of homes available to be purchased continued to moved up from an ultra-tight 3 months of supply in February, and landed ad 4.1 months in April. However, this "increase" was all due to the sharp decline in demand; the actual number of homes listed for purchase was 1.47 million, down 1.3% from March and 19.7% below year-ago levels. There weren't more homes for sale, only fewer buyers. Whether this slump in demand translates into softer home price gains in the future will depend on how quickly sales rebound. Given the lag in reporting, May and perhaps June will likely show further declines in sales before stabilizing or improving.
Builder moods were a better grade of lousy in May. The Housing Market Index from the National Association of Homebuilders moved up 7 points to 37 for the month, recovering a bit of the 42-point drop from March to April. Still, any optimism is welcome; measures of single-family sales bumped 6 points higher to 42 (better, if still sub-par, and a long way from the 81 recorded for February). Optimism about the coming months kicked higher, too, posting a 10-point rise to 46, and there was even a bit more interest to be seen by potential homebuyers, with the measure of traffic at model homes and showrooms rising 8 points to 21. In this series, values below 50 indicate contraction and those above it, expansion, so things here are bad, just not as bad as they seemed in April.
Builders would be happier if they were working more, but that wasn't the case in April. Housing starts rang in with a 30.2% month-over-month decline, plummeting to 891,000 new units under construction. Single-family starts dropped by 25.4%, landing at 650,000 units started, while multifamily projects dropped 40.5% to just 241,000 projects underway. Permits for future activity were curtailed sharply, with the 20.8 percent decline leaving the total number at 1.074 million, a figure now about one-third below where we began the year.
As noted above, the Fed's moves did help the mortgage market, and certainly there was considerable refinance activity in place before the COVID-19 shutdowns happened. There was enough, in fact, to rather overwhelm mortgage lenders and cause some to even price defensively as to meter inbound business. That was late February and March; since then, refi activity has waned, but of late, purchase activity has ticked higher, or at least that seems to be the trend when looking at the Mortgage Bankers Association weekly mortgage applications index. In the week ending May 15, applications for refinancing slid again, dipping another 6.5% and are now in a five-week slide. However, the mirror image to that is another increase in applications for purchase-money mortgages, which rose 6.4% and are enjoying a 5-week string of increases. Should demand for mortgage money continue to ease there is an increasing chance that lower rates will begin to appear in the markets, bringing new record lows and in turn probably sparking new demand. As such, any downtrend for rates is likely to be gradual absent a new economic shock.
Also a better grade of lousy was the report covering manufacturing conditions in the Federal Reserve Bank of Philadelphia's district. Their local barometer climbed by 13.5 points, rising from a harsh -56.6 in April to a less-bad -43.1 for May. Measures of orders declined at a slower pace, posting -25.7 for the month after a 70.9% plunge in April, and employment settled, too, sliding only 15.3% after recording a -46.7 mark for the previous month. Given that re-openings are just underway here and that conditions remain very uneven across the globe it may be a while before we routinely see positive values for manufacturing in these localized surveys (or nationally, for that matter).
A properly socially-distanced holiday is upon us come Monday, the unofficial start of summer. It may be difficult to discern any difference compared to the spring for some, while others may be able to enjoy near-normal barbecues, get-togethers and excursions to the lakes and beaches. If you're one of the lucky ones that are able to enjoy new-found freedoms, please do take care and precaution as the last thing anyone wants to see is a reversal of fortune by the time Independence Day rolls around.
After the Monday holiday, the economic calendar picks up a bit, with sales of new homes, pending home sales and the Fed's Beige Book adding a few more clues to the puzzle. Mortgage rates were slightly softer this week, but at a virtual standstill the last couple of days. It's possible that we might see a slight dip in the average conforming 30-year FRM reported by Freddie Mac next Thursday. A decline of two basis points would be enough to give us a new record, and while that's a nice headline, it does little if you can't qualify to get a loan.
Monday is Memorial Day, so please take a minute to remember those who fought for our freedoms and sacrificed for them… and keep in your thoughts those who bravely serve today.