As we move into the early part of a new year and new decade, the working question at the moment is "How quickly can the global economy shake off the 2019 doldrums?"
Certainly, there were positive actions put into place as last year came to a close that should be more supportive for economic growth and more reliable inflation, but there's little indication at the moment that there are invisible forces waiting to stomp on the accelerator anytime soon. Still, the cumulative effects of three cuts in the federal funds rate in 2019 should be fully realized in the early part of this year and the "phase one" trade agreement between the U.S. and China should help to improve optimism and confidence in beleaguered sectors of the economy (both here and there); forward movement on the replacement for NAFTA is also in the works, and so this may also help in this regard. While the deals aren't thought to be landmark trade agreements, to the extend that they help remove some uncertainty from the global business climate, and that could help improve the climate for growth. Brexit should actually occur by the end of January, but there will be no discernable effect until new trade agreements are worked out among the former partners.
Other central banks and governments are adding or have put in place programs to help support local economies, with the ECB in an "all-in" stance of negative policy rates, QE-style bond buying and open-ended forward guidance. China is moving to enact more stimulus, The Bank of Japan continues to support low-rate and bond-buying policies which have now been joined by a $239 billion stimulus package, and there are other such examples of monetary or fiscal stimulus occurring in other developed nations as well. Others major economies such as Germany could be doing more in terms of stimulus, but that seems to be politically difficult for now.
Still, there are enough pieces in place to suggest that the global economy should be able to move away from what has been a very sluggish period and actually start to see more of an inclined trajectory for growth. What's less clear is the velocity of that change; for the moment, sluggishness remains in control.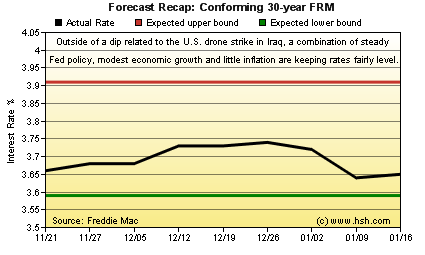 Recap
After battling to produce accurate forecasts amid a sea-change in market outlooks and Fed policy for much of last year, we actually managed to do OK with the last two forecasts. The one just closed was solid enough; back in mid-November, we called for the average offered rate for a conforming 30-year fixed rate to run between 3.59% and 3.91%,; the market presented us with a much tighter spread of just 3.64% at the low and 3.74% at the top, but as this was within our expected range, we'll call it a win. That was much the case with the initial fixed rate for a hybrid 5/1 ARM, too, where we expected a 3.29% floor and 3.57% ceiling, and saw a 3.30% and 3.46% range for the period. A rather large drop (due to at least a temporary shift in expectations for monetary policy following the U.S. drone strike that killed Qassem Soleimani).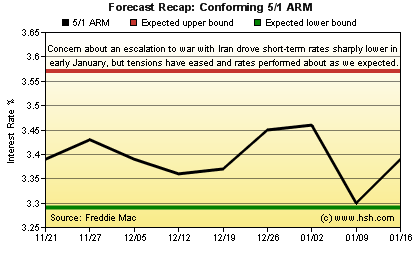 Forecast Discussion
In this well-connected world, a little bit of growth somewhere usually means a little bit of growth somewhere else, and that little bit of growth supports activity in another location. Such is the case of the beneficial cycle of trade; the U.S. buys lots of stuff from China, but China buys stuff to make that stuff from places across the globe. In this way, the trade impasse between the two largest economies has had wide-ranging effect, so having an agreement in place that both can work from should help to get things moving again on a global basis to at least some degree.
For the U.S. part, its hard to argue against the premise that we've been the reliable engine lifting the global economy since the Great Recession came to a close years ago. Strengthening growth then meant lifting other nations out of recession, and durable, reliable growth in the last few years (even if only at moderate levels at times) has helped to keep them from falling into recession again. Still, in these interconnected times, there's only so much that one participant (even the biggest one) can do, and other players need to find ways to contribute more toward the whole, so that growth and opportunities for more are spread around to the benefit of all.
While the U.S. could certainly grow faster, and may, the chances of significantly faster growth are pretty slim for an economy near full employment and one already extending a record-long streak of growth. That said, there are certainly reasons for optimism that at least moderate growth can continue going forward, as the kinds of imbalances that tend to ruin expansions don't seem to be threatening at the moment. If this remains the case, and if the U.S. can continue to be the base on which growth can build, then it will likely be the efforts of other developed economies that will lift themselves — and us — to a position of greater economic activity.
What happens to interest rates in the next nine weeks is very much dependent upon the extent that these other efforts to stimulate economic activity begin to show promise. While there is little reason to expect the sun to suddenly burst through the clouds, even a brightening sky with a thinning cloud deck would be encouraging, and that would be enough to press rates upward a bit. This of course also relies on a lessening of the headwinds that have been a drag on activity and the pessimism that has damped the outlook.
At the moment, though, pessimism is still pretty strong, "risks remain tilted to the downside" and the cloud cover remains plenty thick. However, there seems enough pieces in place to a least engender hope.
Forecast
Perhaps we're overly optimistic that more of the same efforts by central banks and modest new trade agreements will have collectively greater beneficial outcomes. After all, low-rate policies and bond-buying have been in place for years with important, if only marginal, effects. Still, a less-tight (perhaps neutral) Fed policy is better aligned with other central bank policies, and a lessening of trade and tariff tensions arguably should help support growth at the margins.
Of course, any improvements are likely to be gradual and cumulative at best, but any shift toward positive forward momentum for growth elsewhere would be helpful. We think that some of this may show late in the forecast period; nothing all that exciting, but perhaps just a brighter sky and somewhat more optimistic outlook to help interest rates edge a bit higher that they have been of late.
Over the next nine week period, and absent any unforeseen events (such as an escalation with Iran), we think that the average offered rate for a conforming 30-year FRM as tracked by Freddie Mac will hold a range between 3.58% and 3.87%. For the initial fixed interest rate for hybrid 5/1 ARMs, we expect that a pair of 3.27% and 3.54% bookends will contain the most popular alternative to the long-term fixed rate loan. Of course, we'd wouldn't at all mind seeing rates move a little above those top expected numbers, as this would mean a strengthening outlook for a change.
This forecast expires on March 20, 2020. Spring will have sprung, bringing with it the typical surge in homebuying activity and other annual rites. If you're of a mind to, why not stop back and see how this forecast fared… and what our outlook is as we then roll toward Memorial Day?